Whats up good people and welcome back to this special fighting games edition of WTF Gamers?! A while ago we have been treated to a lot of teaser trailers of Tekken 7, but lately we started to get full on gameplay of the new title with an added bonus of a new character. This cute and quirky character named Lucky Chloe is a cosplay idol from what I read. First off I like to point out that Tekken is made in Japan originally and the fact that a lot of gamers were salty about her being too typical and weird had me laughing up a storm. Throughout the years of Tekken we have had mini dinosaurs, kangaroos, Raptors, living fighting wood, demonic Samurai's and freaking Ogre God. So, Lucky Chloe seems weird to you?

I like the idea of a Cosplay character idol as a fighter, because that is a popular culture anyway and since the Tekken world has had many eccentric characters. I think she fits just find in the roster with the other female opponents. I mean I am digging on this character a lot because she reminds me of the Half-Beast in Bloody Roar series. Her move sets are pretty solid, which makes learning her combos a fun challenge. On that note we shouldn't bash creativity when we are finally getting some creators to take chances and break out of a repetitive mold. The judgment is very immature considering all the other fighters that many of us played have gone that route or beyond. Also you do realize that ever since Tekken 5 or 6 you can change the clothing of characters which in itself made everyone a cosplayer.
She is adorable and deadly at the same time just like Ling Xiaoyu with her cute Panda. But when comments like this happen, "Can I have the option to delete characters?" honestly that sounds like a troll trap but Harada handled them brilliantly by saying, "Hello small world. I'll make muscular & skinhead character for you." That had me in stitches, but in that all I have to say is deal with it, because she will come out. You have the option not to use her, but you will out of curiosity and she might even be beast in the game. Stay frosty gamers!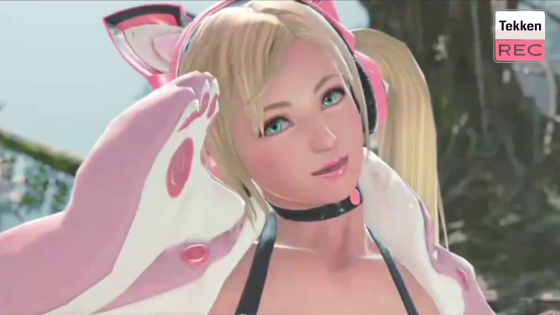 Source| neogaf